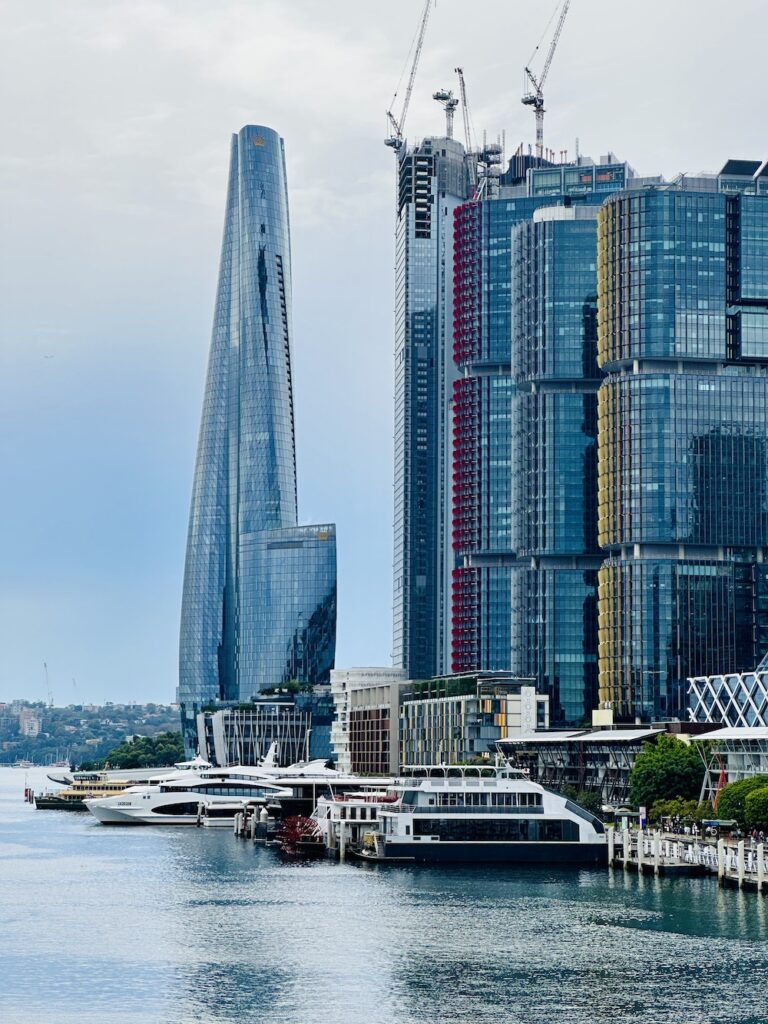 Our paper "Don't fail me!" (10.1145/3581641.3584085) was accepted at the ACM conference on Intelligent User Interfaces (IUI 2023 – https://iui.acm.org/2023/). Thus, I had the honor to visit the conference which took place at the University of Technology Sydney (UTS). The venue was on the 7th floor in on of the university buildings. In total 274 papers were submitted to the conference from 1217 authors from 45 countries. 66 papers were accepted which is an acceptance rate of 24.1%.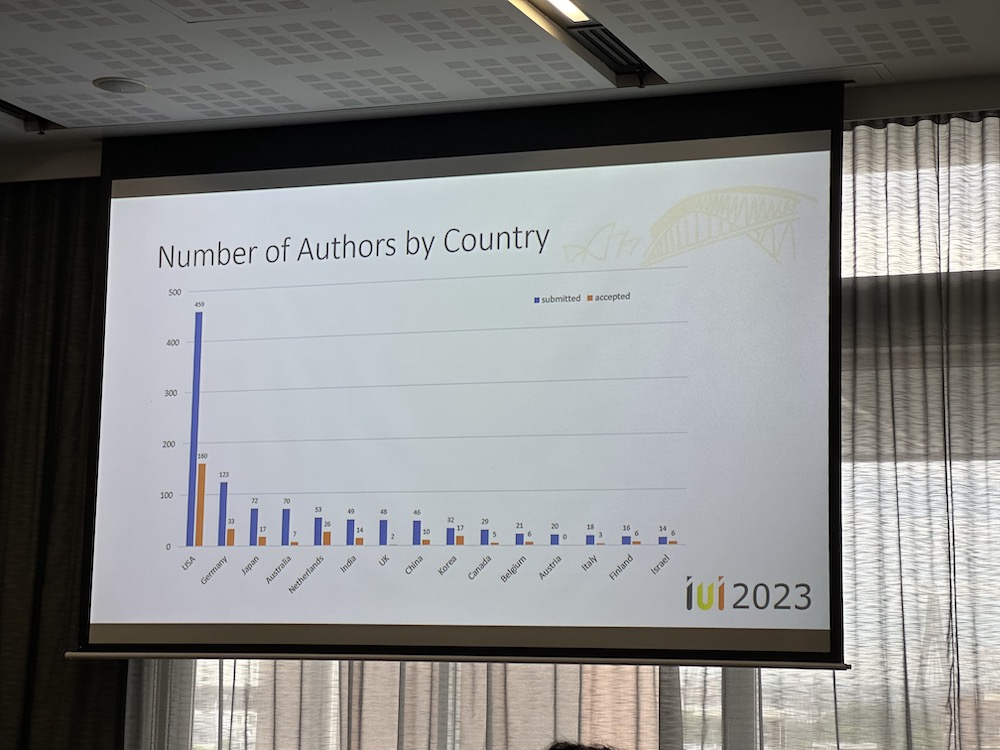 The majority of the papers were submitted from the USA, Germany with the second highest number of submissions. The papers were reviewed by 201 PC members conducting 1165 reviews, which is 4.25 reviews in average and up to 6 reviews per submission.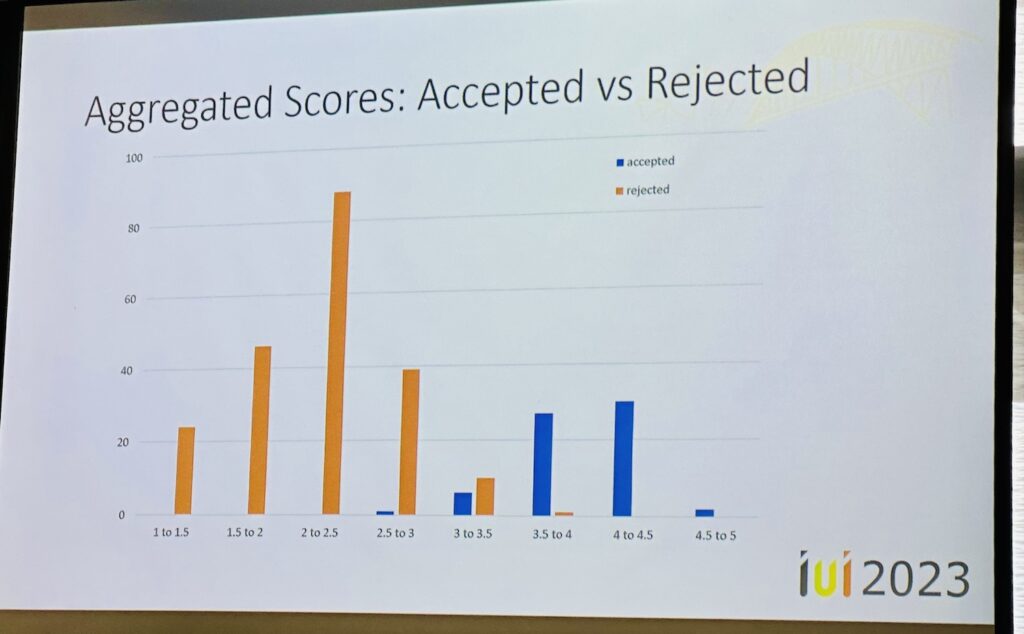 8 workshops and 3 tutorials from 37 authors were submitted and 9 of them were accepted. The poster acceptance rate was 79%, which means that it is relatively easy to get a poster or demo accepted. From 58 total submissions (40 posters, 18 demos) 46 submissions were accepted (31 posters and 15 demos). From the doctoral consortium 12 of 13 submissions were accepted.
All together 244 people registered for the conference. 195 people registered for the full conference, 88 with papers, 52 without papers, 40 with posters & demos, 11 doctoral consortium and 5 OpenScience. The majority of conference participants are from USA (80) followed by Australia (37) and Japan (24). Other countries are UK (14), Netherlands (12), Rep. of Korea (12), Germany (11), Italy (8), India (5), Ireland (5), Belgium (5), China (4).
The IUI is a conference where the latest research on user interface technologies is discussed. The headline for this years conference was "Where HCI meets AI". So a large majority of the presented papers, posters and demos are on using artificial intelligence (AI) for improving user interfaces, including topics such as accessibility, understanding contexts and autonomous systems communication with humans (human computer interaction). The conference website description is as follows:
"ACM IUI 2023 is the 28th annual meeting of the intelligent interfaces community and serves as a premier international forum for reporting outstanding research and development on intelligent user interfaces. ACM IUI is where the Human-Computer Interaction (HCI) community meets the Artificial Intelligence (AI) community. We are also very interested in contributions from related fields, such as psychology, behavioral science, cognitive science, computer graphics, design, the arts, etc."

IUI Conference Website – https://iui.acm.org/2023/
The conference is relatively small in comparison to other ACM conferences I visited, but this is actually quite good, because you don't have to decide which session you want to visit. Everything takes place in one large room and you won't miss any interesting presentation. Another thing that I liked about the organization was, that many presentation and workshop were hybrid. So it was possible to join a session from remote. So overall a very good and interesting conference.