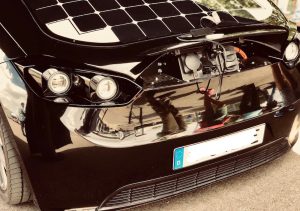 Recently I had the chance to test drive the prototype of the upcoming smart electric car called Sion, developed by the Munich start-up Sono Motors.
The Sion is a very special electric car, as it is completely covered with solar panels in order to produce the energy – it requires for driving – by itself. With a realistic range of 250 km it is ideal for most mobility needs and not only this: it can also be used as a power generator and to share the energy that it produces. The solar panels produce enough energy for 30 km per day when standing outside in the sunlight. Thus, for me this would be an ideal car to drive to work. I would only need to charge it in bad weather conditions or in winter. But during the most time of the year the car would charge itself while standing around.
There are a number of other very interesting features the Sion will come with, when produced in the third quarter of 2019. For example, there will be the possibility to share the car via an app with other people, allowing you to open the car via your smartphone. As already mentioned, the Sion will also not only load itself, but will allow you to share the energy it produces for example in order to load your e-bike or even other electric vehicles due to a technology called bidirectional loading. It can provide between 2,7 kW using the standard household plug and 7,6 kW via a type 2 plug. Another special feature of the Sion is the air filtering system using a real moss that filters up to twenty percent of the fine dust particles – a very helpful feature when driving through Stuttgart.

There are numerous other interesting features and the car really sounds very promising. Sono Motors is a young start-up company that has a clear goal in mind: reduce the misuse of valuable and finite resources such as oil. As transportation is one of the largest consumers of oil resources they want to help to overcome using oil for transportation by providing a new effective way of using the sun power for mobility. It totaly makes sense. Thus, Sono Motors is not the only company that came up with this idea. The Lightyear one is another car that is capable of charging itself, probably coming to market in 2019, too. In the last 10-15 years a number of solar powered cars where developed.  But most of them where prototypes and research projects. None of them yet had a big commercial success story. I am sure this will change very soon. When comparing electric cars from different manufacturers, one major issue is (next to the often little range) the high price. For a decent electric car with the size of a VW Golf or larger, you would pay usually around 35.000 € (VW E-Golf) or more. This is different with the Sion. The price seems to be unbeatable low at 16.000 € (plus 4.000 € for the battery, if not leased).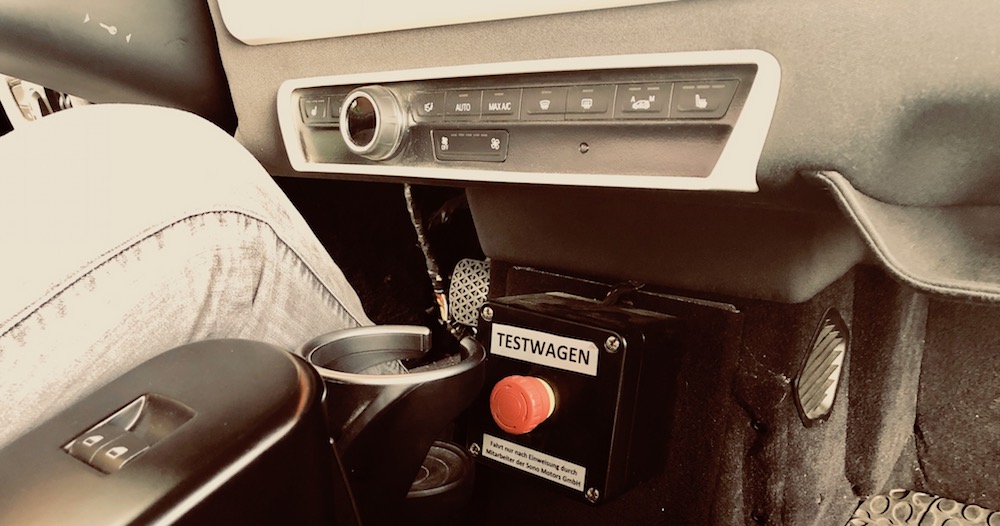 Now to the driving experience: I must admit, it is a prototype car, but it seemed to be – despite of the interior design, infotainment and missing sensors (e.g. parking, rear view camera, etc.) – really advanced. The driving was very good: a great acceleration and stability on the road, a small turning radius and comfortable suspension. I was really delighted. It was really great fun driving the Sion!
After interviewing the enthusiastic, highly motivated crew and test driving the car, I decided to back this great project and pre-ordered a Sion for 2019, like 5000 other backers before me. Now I am really looking forward to next year. We'll see who is first on the German market, Tesla's Model 3 or the Sion?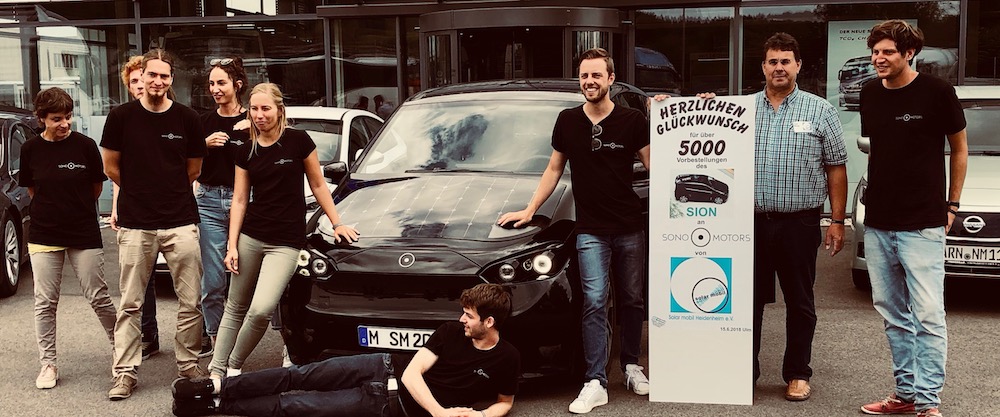 Thanks to the Sono Motors team to making this great idea turn into reallity!