September 30th, 2019: Dr. Patrick Bartsch, Head of Technology Specialists for Connected Car & Future Technology at Jaguar Land Rover Limited, holds a lecture on Car APIs in our Mobile Lab at the Stuttgart Media University.
The room is filled with Mobile Media and Computer Science students who listen carefully, when Patrick talks about the connected car cloud, APIs and User Centered Design – or how Amazon calls it's development process "Working Backwards" from customer to product.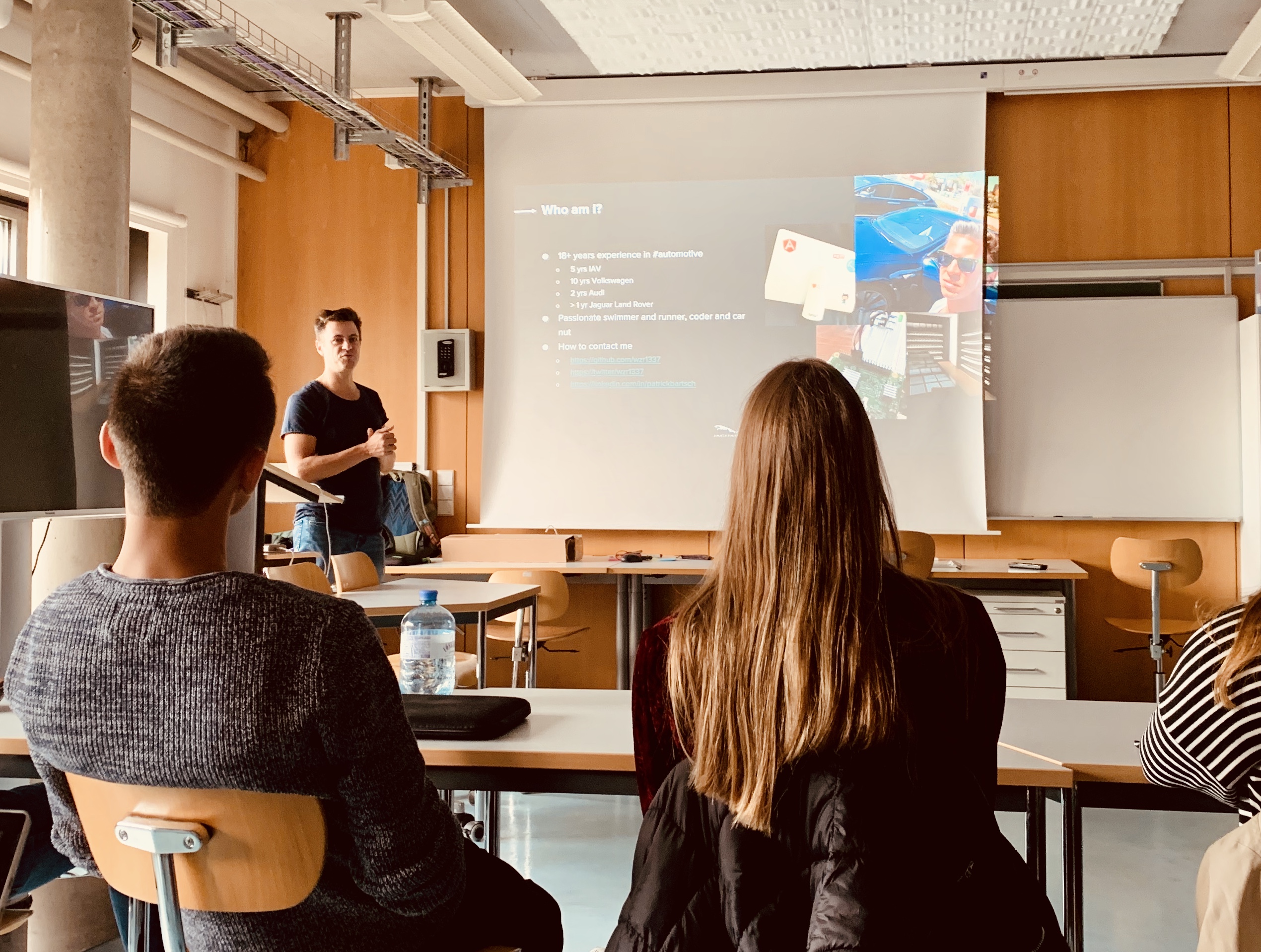 The official lecture name is "Special Topics on Mobile Application Development" and it is a premiere that it is conducted as a block-seminar the week before the regular lectures start. This was necessary in order to be able to have Patrick as a lecturer, who spared no efforts and arrived with his Range Rover yesterday, driving the whole way from Birmingham to Stuttgart. "I work since 18 years in the automotive industries and I really am a car geek", says Patrick, when introducing himself to the class. His Range Rover is a pure luxury car with all the latest technology inside, including a car API! The students will try to use this API, when they build their own automotive app idea from scratch in the course of the lecture. "But before this can be done", Patrick explains, "we need to talk about customers, networking protocols, processes and security".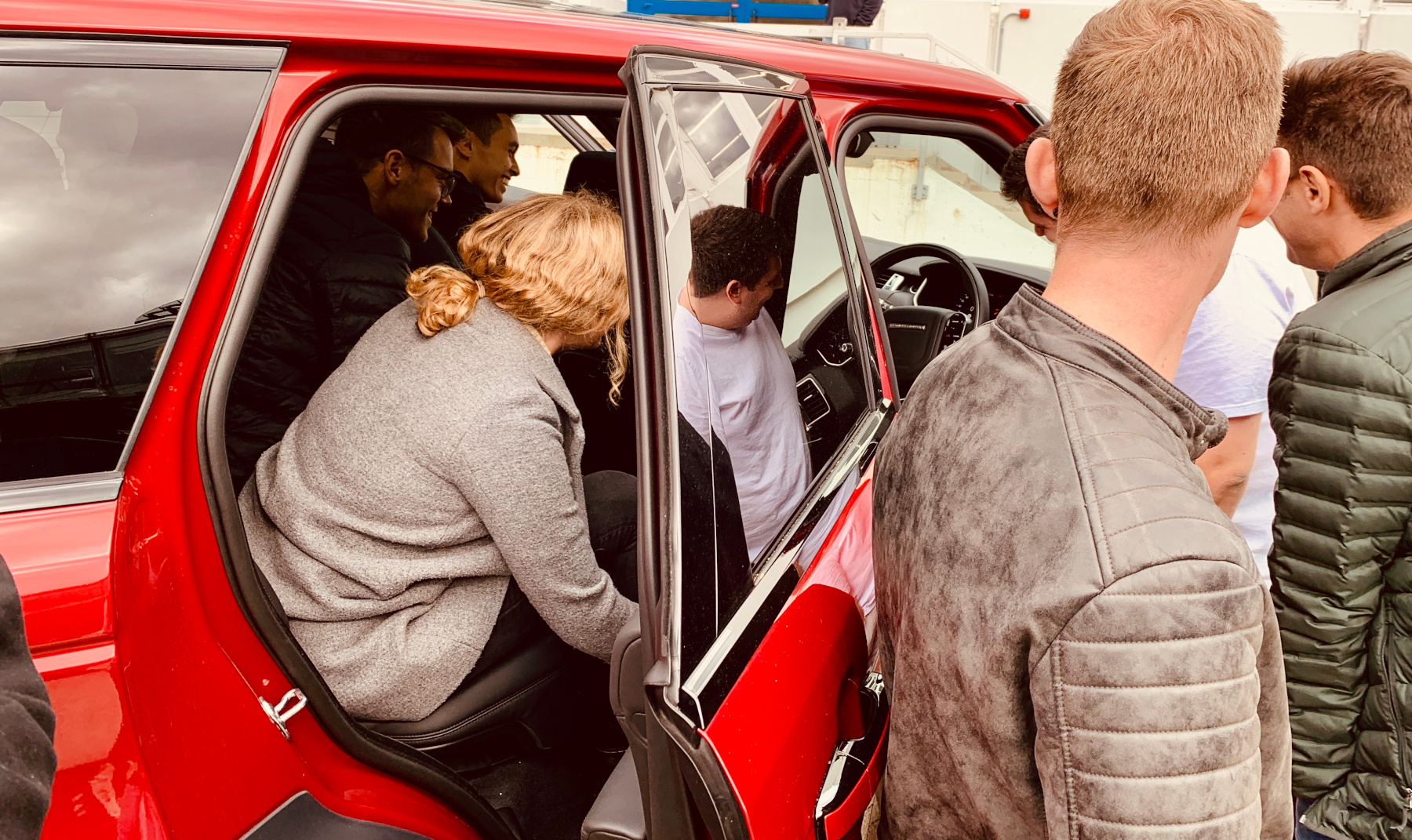 As a special goody, Patrick and I picked up a brand new Jaguar I-Pace from the Stuttgart Jaguar dealer today. The students are impressed. The I-Pace is a fully electric car with a range of over 400 km and 400 horsepower. It is a real beast with an incredible acceleration. But we are more interested in other qualities than speed and acceleration. We are interested in it's API.
Building apps for cars is a topic that will become increasingly important in the next years. Modern vehicles already have cloud-based interfaces that allow them to provide vehicle information and services in order to control parts of the vehicle. Usually a car manufacturer provides it's customers with an app that allows the user to lock and unlock his / her car or check the vehicle status, honk and flash the car light (in order to find it easier) and so on. Unfortunately most of these interfaces – or the Application Programmers Interface (API) as we call it – are proprietary and closed for the public. But the trend is to open up these APIs in order to allow third party developers to create new business cases and services which in turn create additional revenues for the car manufacturer and at the same time help them to sell more cars. But most of the car manufacturer are still hesitating to open up their APIs.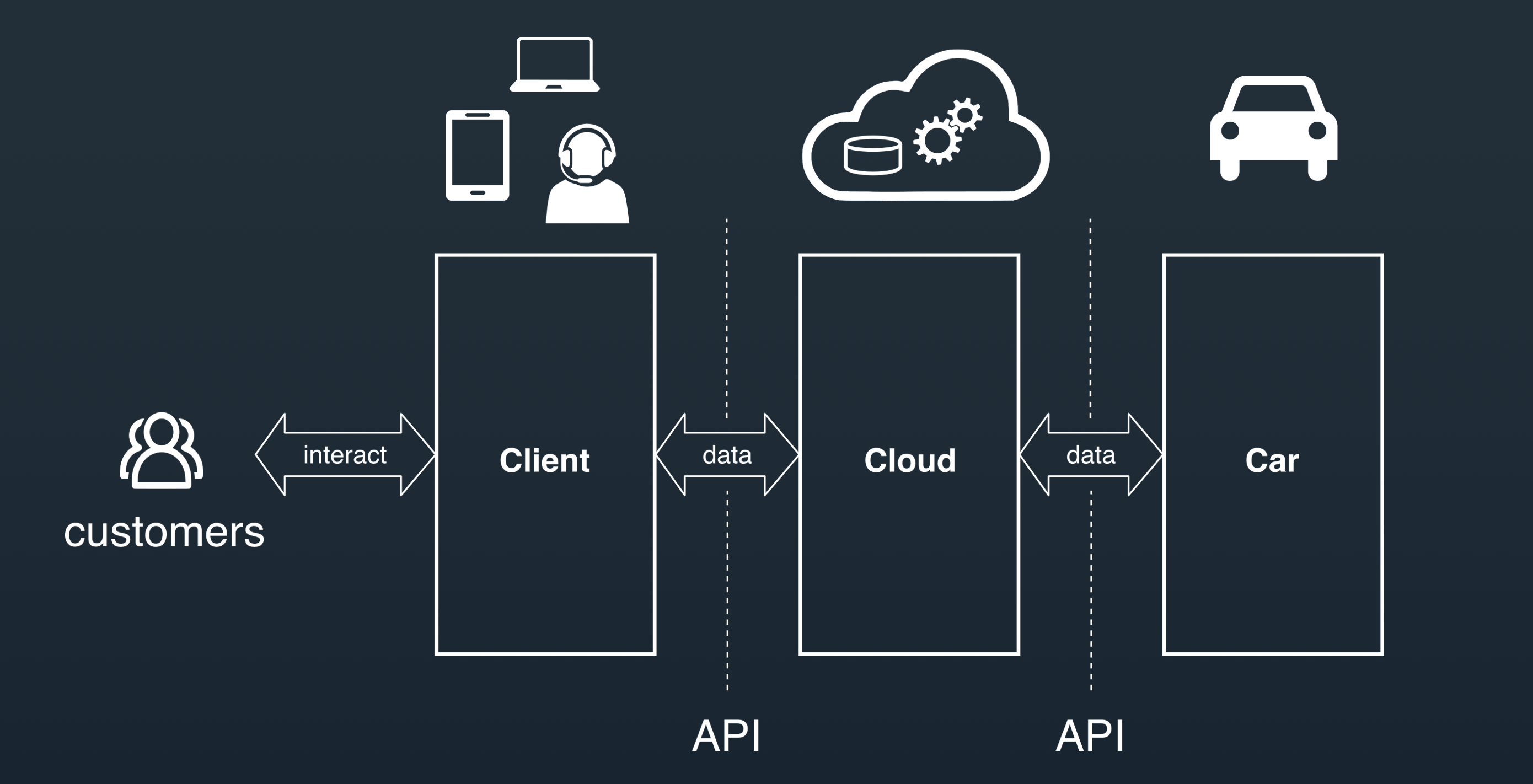 In the course of this lecture, we will try to develop new prototypical apps that use a car API connected to the cloud to interface with a vehicle and provide new services to customers. We will use exiting technology where applicable and build the rest that we need from scratch.
Let's see what fantastic ideas the students come up with! It is great to have a professional expert form JLR here at the HdM and to have the opportunity to work with him and get to know the great Jaguar and Land Rover technology from first hand. Thanks goes to Patrick and also to the local Jaguar dealer Schwabengarage Stuttgart GmbH and Thomas Weiß, their director of sales! Thanks very much for providing us with the I-Pace! It is a fantastic fully electric car and it was a great experience to learn more about it and drive it.