Another Semester Ends…
… and this time eventually with a wonderful MediaNight!
It was really amazing to see so many impressive projects at this year's MediaNight (https://www.hdm-stuttgart.de/medianight). It was unclear for a long time whether MediaNight could take place this semester, because we couldn't use the main building of the HdM due to the necessary fire protection renovation. So the plan was to hold it outside and in the other buildings. We had to hope for good weather, and we were lucky. It was again one of the best MediaNights ever! Thank you and hats off to the great organizing team. You guys did a great job!
Projects to show off
Yes, the students also did a really great job in showing off their fantastic projects (about 94, if I counted correctly). From video games, to films, to apps and even electric cars – there was something to see and experience for everyone. I would like to introduce you with some of those I was involved in.
Let's start with the electric cars:
Electromobility – from sustainable recycling- to luxury car
Reducing CO2 emissions is essential for the mobility of the future, and there is no way around it if we are to achieve our environmental and sustainability goals. It is so important!
Electro mobility is one way to reduce (local) CO2 emissions. This is why I love to support projects that help us in reducing CO2 in one way or the other. The following projects have to do with sustainability and reducing C02.
B.E.A.S.T. 3.0 – Reinventing Electric Charging
The B.E.A.S.T 3.0 focused on integrating vehicle interaction into the context of charging and energy management, especially in customer homes. The goal is to enrich the user experience through intuitive and convenient interactions between the vehicle and the charging infrastructure.
The newly designed plug and dashboard make the flow of electricity visible and "feelable" (through vibration in the plug). The idea is to give the user a better understanding of the energy flows and -sources and thus, lead to a better understanding of energy consumption and perception in order to motivate users to save energy and use more sustainable energy sources, such as solar or wind power. Additionally the understanding of bi-directional charging was addressed in this project. By focussing on the different personas and building concept prototypes designed for those specific customer groups (using the User-Centered-Design process), we created a new fascinating charging experience. This project was in collaboration with Mercedes and AMG.Here are some impressions:
GaSolEn – Gambia Solar Energy
This project has won the Media Night Award last year and is a cooperation between Hochschule Esslingen and Hochschule der Medien. Its goal is to build a sustainable mobility solution for third world countries such as Gambia. For this purpose, the students in Esslingen have developed a solar-powered technology box that is powered by old car batteries. The compact technology box can be installed in vehicles made from old parts on site in developing countries. One of the initiators of the project, Mora Saho, has built a workshop in Gambia where he plans to provide the service to build solar powered, cheap and sustainable vehicles from scrap parts of old trucks and busses (which they have available). A really wonderful project, as it will help all the people who can not afford a new car, is sustainable and at the same time helps to reduce CO2 by using solar powered mobility.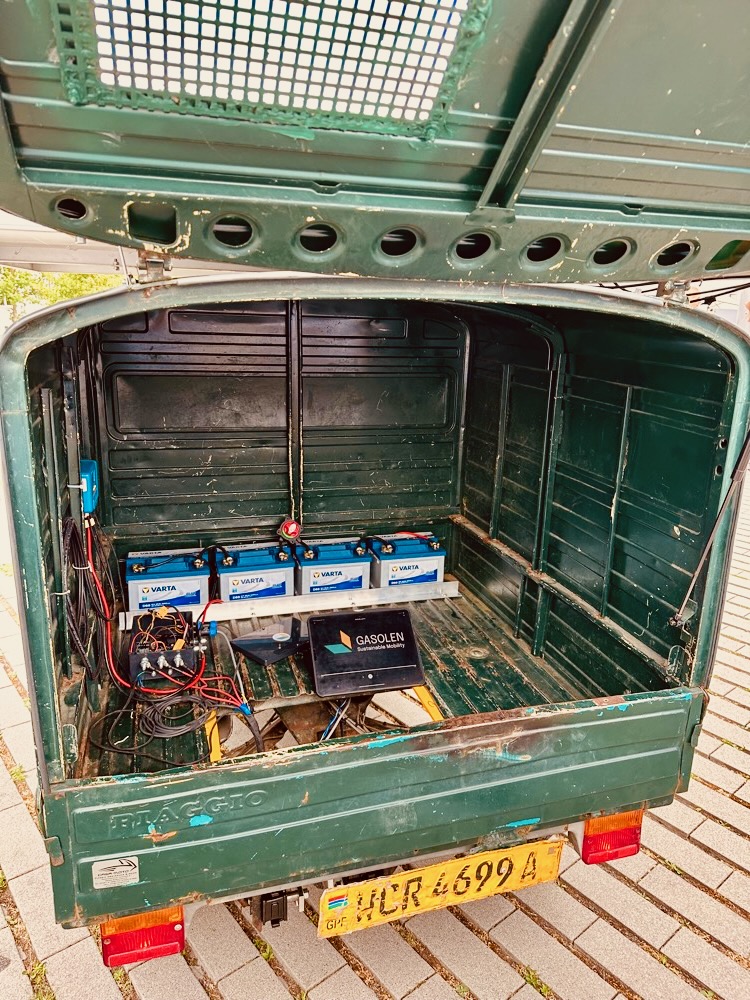 Scooters Reloaded
The startup LEON Mobility tries to implement a e-scooter charging network in Stuttgart. In this project in cooperation with them, we focused on the needs and wishes of users and addressed them directly through a survey. The core of our survey was to make e-scooter charging stations more accessible. To do this, we determined exactly where e-scooter riders would primarily like to see charging stations. This direct survey of our target group allowed us to identify interesting locations and gain deeper insight into the behavior of e-scooter users. This enables us to expand the charging network in a targeted manner and significantly improve access to charging stations. After all, with a better charging infrastructure in the city, we are one step closer to the goal of sustainable mobility. In order to support this project LEON Mobility installed two brand-new charging stations at the HdM. So now we are also part of the Stella scooter network in Stuttgart. Here are some impressions:
Sitt.app and other projects
There are so many other projects to talk about. But I wanted to show you one last project that was very well received at MediaNight: the Sitt.App.
Sitt.App (https://sitt.app) is a startup from Mannheim, Germany, that we supported this semester in implementing their first cross-platform app using the Flutter framework. Their goal is to build a marketplace for babysitters, as they see a big need in this area. The process we used was again User-Centered Design and the team was interdisciplinary and international. Projects like this are fantastic for learning app (and product) development from real-world experience. The learning curve was pretty steep, but in the end we had a real working app prototype for Android and iOS to show off. Interestingly, many companies that attended MediaNight stopped by the booth of this project and tried to hire the students. This happens quite often, but I think for the students it was a great experience to see that so many companies (and not only the startup) are so interested in their skills. Here are some impressions: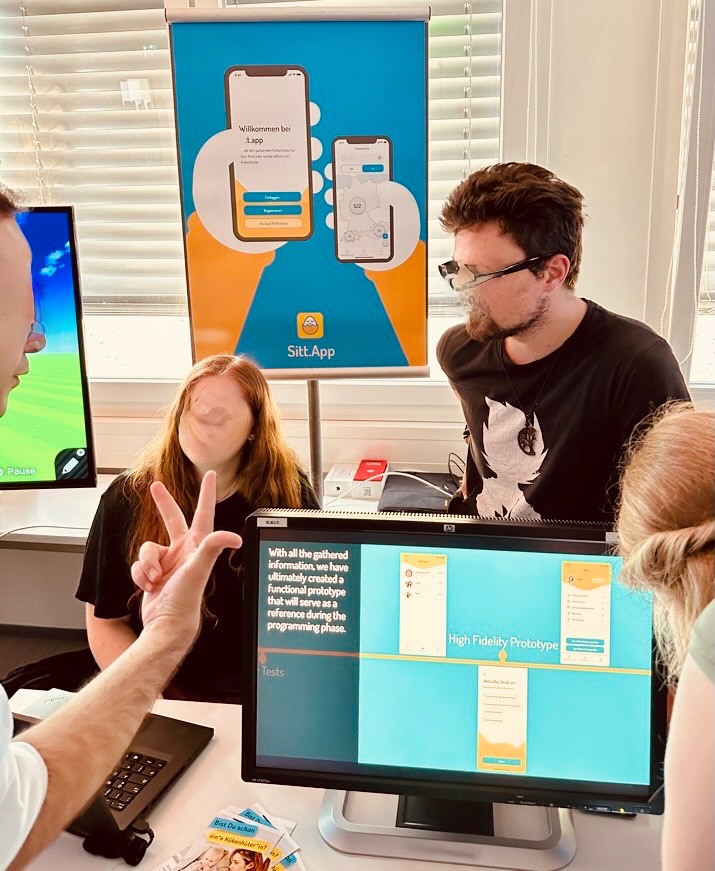 Now this was a quite long post. Thanks for reading and I can't wait until the next Media Night! Hope to see you there.